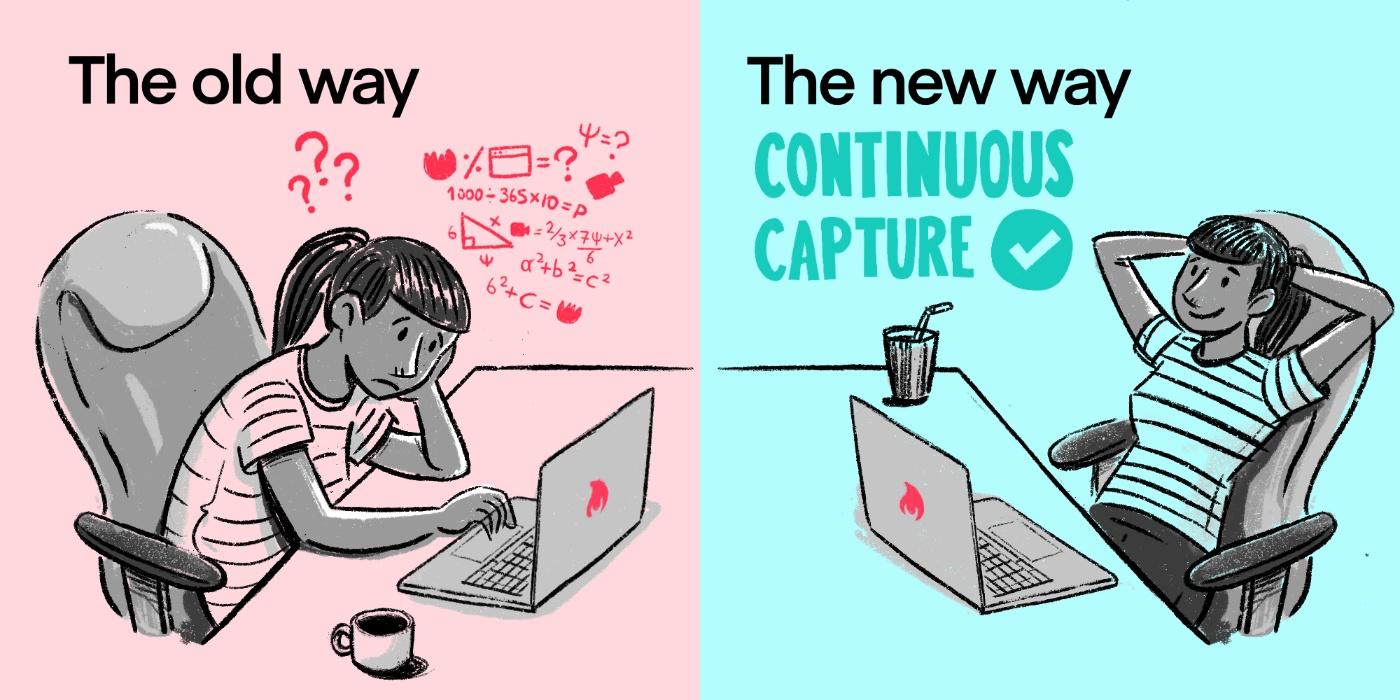 We're making a major improvement to the way Hotjar captures data and taking the manual work out of understanding what users are really doing on your site.
What you need to know:
We are beginning the rollout of continuous capture, which will replace the current snapshots method of capturing data about user behavior in Hotjar.
When fully rolled out, you will no longer need to manually create and restart snapshots in Hotjar Recordings and Heatmaps.
This will mean no more manual restarting of recordings and no more gaps in your data between snapshots. The result? A clearer picture of how your user behavior varies over time, and less of your time spent on manual work.
This will be a phased release so, depending on your plan and the tools you use in Hotjar, you might not see any changes straight away.
The first phase is a limited release of continuous capture in Recordings to sites on Business plans with an allowance of 50,000 pageviews/day or higher.
We're making Hotjar better, based on your feedback
We get a lot of suggestions from you, our customers, on ways Hotjar can make your lives easier and give you a better understanding of your users' behavior. By far, the most common frustration is the need to create 'snapshots' in our Heatmaps and Recordings tools.
Let's face it, starting and stopping snapshots in order to generate recordings and heatmaps is not a natural part of your workflow. This can be confusing: you stop seeing new recordings, you get frustrated when you realize you need to manually restart a recording snapshot to avoid gaps in your data.
The new way of capturing data
We've taken this feedback on board and built a new way of capturing the data used to generate heatmaps and recordings in Hotjar, automatically and continuously.
This will mean no more logging in to manually restart your snapshots and no more gaps in your data between one snapshot ending and another starting. Continuously capturing data will give you a truer picture of user behavior on your site, allow you to identify trends in behavior over time, and ultimately enable you to make the right changes to your user experience.
What our BETA users have to say
MaxiAxi is a leading online retailer of light and sound equipment. As participants in the BETA phase of continuous capture in Recordings, the MaxiAxi team has been experiencing this new way of generating recordings and have seen huge benefits.
Sven van Laar, Ecommerce Manager at MaxiAxi, is a regular user of Hotjar and sets aside a few hours every Friday to watch recordings of MaxiAxi users navigating the company's ecommerce site. This helps him to identify opportunities to improve the user experience.
"We've been able to fix a lot of issues with the checkout, things customers didn't get, things that didn't work, or problems that we didn't see but customers did. When you had to keep restarting snapshots, you risked missing a problem that came up in the store at a time when recordings weren't being generated. Now, with continuous capture in Recordings, you don't have the fear of missing out. You can always see the actual data, it's there waiting for you. You can trust that Hotjar will be ready for you, and you know the recordings are there."
A phased rollout across Hotjar's tools and price plans
Hotjar's evolution from snapshots to continuous capture will be completed in phases and will be limited to certain tools within Hotjar and specific price plans at first. As we get feedback from initial customers and fine-tune the new experience, we will eventually make this the standard for all of our customers and across all tools in Hotjar.
The first step was taken last week when sites on our Business plans with an allowance of 50,000 pageviews/day or higher (price plans from $/€189 and up) got access to continuous capture in Recordings. If your site is on a plan that already has access, you can read more here about how continuous capture works in Recordings, what has happened to your existing snapshots, and the daily recordings allowances for your plan.
When will continuous capture be available in more tools and plans?
Continuous capture in Heatmaps will follow in the third quarter of 2020. The full rollout across all tools and to sites on all Business plans will also be completed in the third quarter of 2020.
If your site is on our Basic or Plus plans, you will need to wait a while longer to get the benefits of continuous capture, but it will eventually become the standard in all Hotjar plans. If you want to remove the manual work of starting and stopping snapshots as soon as possible, you can always upgrade your site to one of our Business plans (even if only temporarily) to get earlier access to continuous capture and lots of other advanced features.
The transition from snapshots to continuous capture will change how Hotjar fits into your workflow, and we're confident that it will make it far easier for you to get the insights you need to create experiences that your users love.
💡 Starting Continuous Capture in Recordings.
Read More