"When in doubt, zoom out" is a favorite saying of stock market investors. It reminds them not to make rash decisions based on a single data point but to take a broader perspective instead. There's something valuable product teams can learn from this. It can be tempting to make product decisions based on feedback from a single user who shouts loud enough, but that user isn't always representative of your larger user base.
What should an effective product team do instead?
Listen to your user, of course, but before you start working on a product improvement or bug fix based on a single user's feedback, you should:
Zoom out to understand the context around that user's feedback. That way you can be sure you've fully understood the issue and you'll be better able to find the right solution.
Zoom out further to validate that the issue affects more users. This will allow you to build a solid case and get buy-in from your team to prioritize the work.
How can I achieve this using (new features in) Hotjar?
We've heard product teams describe this use case time and again, but up to now it's been quite a manual process in Hotjar. When your user told you something insightful via Incoming Feedback on your site, finding the recording of what the user experienced, or a heatmap of the page where they experienced the issue, was cumbersome. So we've made it a lot easier:
Zoom out: We've added a new 'Play' button to incoming feedback responses where you've also captured a recording of the user's session. This means you can click straight through to the relevant recording and see what the user experienced before speaking up.
Zoom out further: Once you've understood the issue, you can click on the new heatmap icon inside the Recordings player. This will take you straight to a heatmap of the page you're seeing at that point in the recording, allowing you to determine if more users have had the same issue.
Pulling it all together, connecting Incoming Feedback with Recordings and Heatmaps will help you to identify, understand, and validate user issues, and make better product decisions.
Here's an example of the entire process in an 18-second GIF: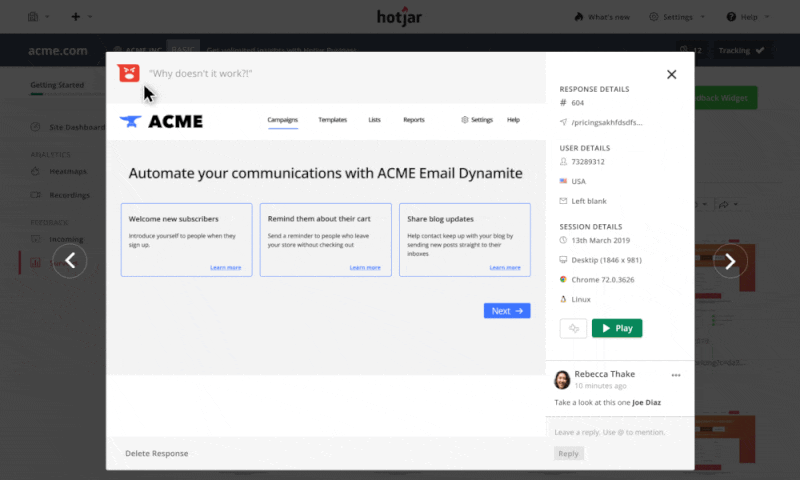 The user clicks on a broken 'Learn More' link on the ACME site and leaves feedback saying 'Why doesn't it work?'.
The Product Manager at ACME clicks 'Play' beneath the feedback in Hotjar and watches the recording of what the user experienced.
The PM then clicks on the heatmap icon to find that lost more users have been trying to click the same broken link.
The issue has been flagged, understood, and validated faster than you can say "continuous discovery" 🙌
Get started by jumping into your Incoming Feedback responses and clicking on 'Play'.