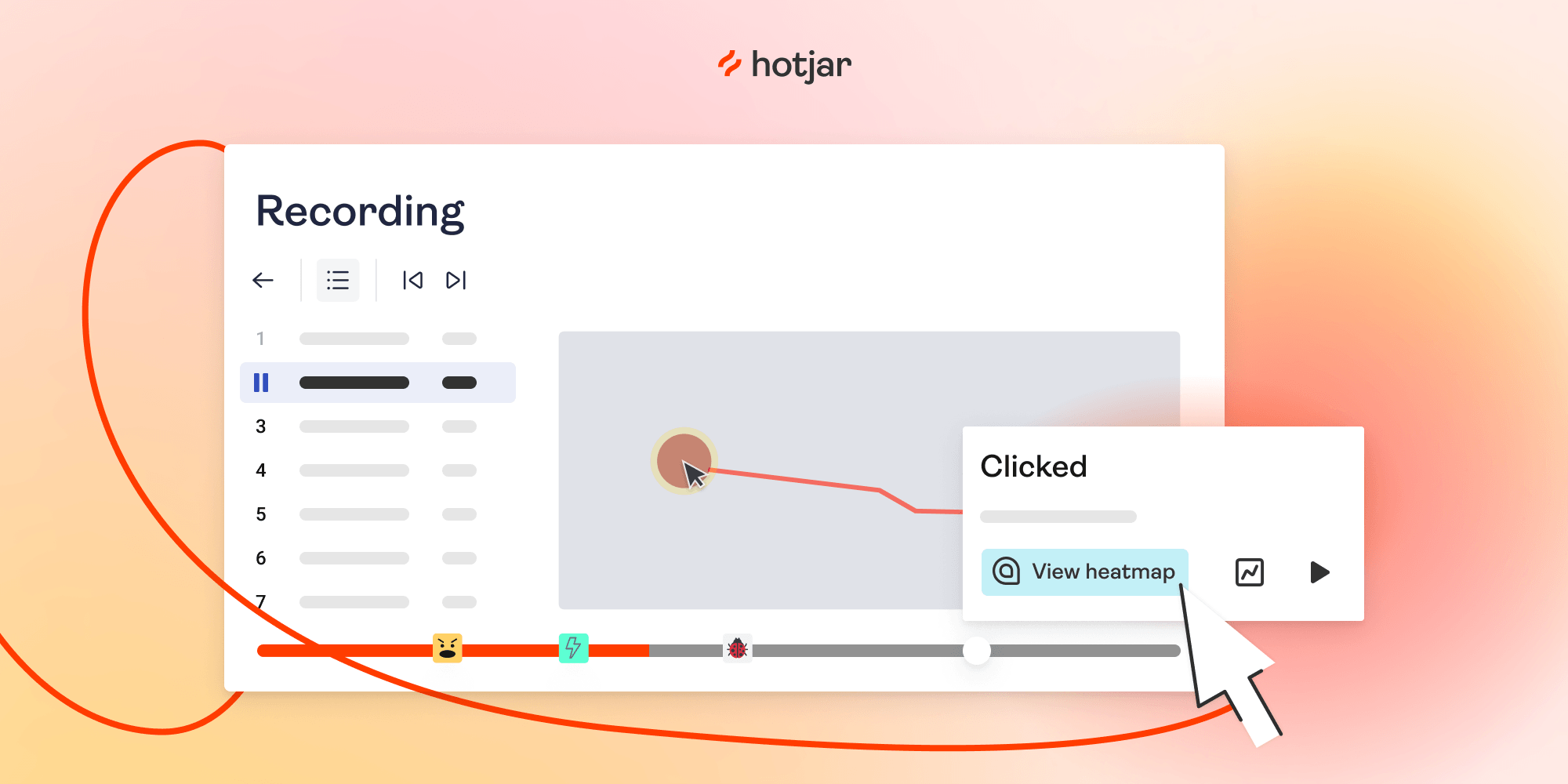 Hold on to your hat—we've just released the magic carpet of product updates 🧞
One that gives you a new fantastic point of view on your site experience. Let us explain...
Since last year, you've been able to zoom in from high-level charts to recordings of individual users in Hotjar. So if you spot a drop in conversions via Trends or Funnels, you can easily dive into Recordings to see what's going on 🔍
But what if you're watching a recording, spot an issue, and want to zoom out?
What if you want to learn how many other users experienced this, if you should prioritize fixing it, and if it's really important enough to tell your team about?
Zoom out for a new fantastic point of view
Now, with Hotjar, you can go from viewing a recording to the wider picture with just a click. So you can assess issues faster, get buy-in more easily, and ship the updates your users really care about 🙌
Here's a sample of what you can do, depending on your site's Observe plan:
Basic and Plus: if you spot a user clicking on something unexpected, jump to that page's heatmap to see how common that behavior is, and if a redesign is needed
Business: if you watch a user visit a page briefly and then do a u-turn, jump to similar recordings to see if there's a pattern that explains why they aren't sticking around
Scale: if you see a JavaScript error while watching a recording, then view other recordings with the same error so you can investigate what's causing it. Or zoom out to Trends to see how often this error occurs over time and whether to prioritize a fix.
Bonus for all: when a user leaves feedback in a recorded session, you can quickly view all responses for that page to see if others have similar thoughts 💬
So the next time you need to get your team on board with an idea, build your case with a fresh stack of visual insights.
And when you'd like to zoom in from high-level patterns, that's now even easier in Heatmaps. When you look at an all clicks map or a rage clicks map, you can choose to view a trend line of clicks on a specific element to quantify the behavior. Or dive into recordings of users who interact with that element to understand their full journey.
A ton of new user behavior patterns. All just a click away! Ready for a whole new world of insights? 🎶