Cut through the noise in your recordings with these two new features:
1. Don't waste time on recordings you've already watched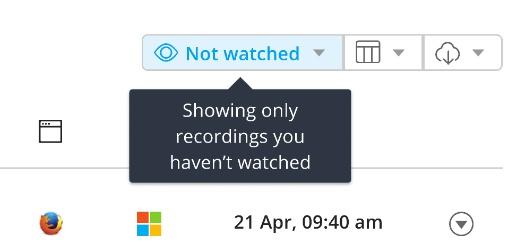 You know that feeling when you're watching something on TV and you're not quite sure if you've already seen it? Sometimes, when you're on a roll watching multiple recordings in Hotjar, you'll come across one that feels familiar.
Your recordings list used to be a mix of both recordings you've already watched and ones you haven't. From now on, we'll default to showing you recordings you haven't watched so you can focus on uncovering brand new insights.
You can toggle this setting on or off at any time. So, if you're struggling to find an interesting recording you watched recently (or you're just in the mood for a re-run of the classics), you can focus your search on just the recordings you've previously seen.
2. Only see recordings of 'new' or 'returning' visitors
Segmenting by new or returning users is a classic and powerful way of segmenting users in analytics. You've now got a new/returning filter in your Recordings. 🎉
Here's how the new/returning filter works, and a bit of inspiration for how it fits with your other Hotjar filters:
New users: see how users who are unfamiliar with your site interact with it for the first time. Stack a 'Referrer URL' or 'Landing page' filter on top of 'New users' to focus on new visitors from a specific campaign.
Returning users: see how your frequent visitors navigate your site after you've rolled out changes. You could use this filter to detect frustrated behaviors (like U-turns) in loyal segments of users.
New to Recordings filters? Have a read of our guide on how Hotjar Recordings filters work.