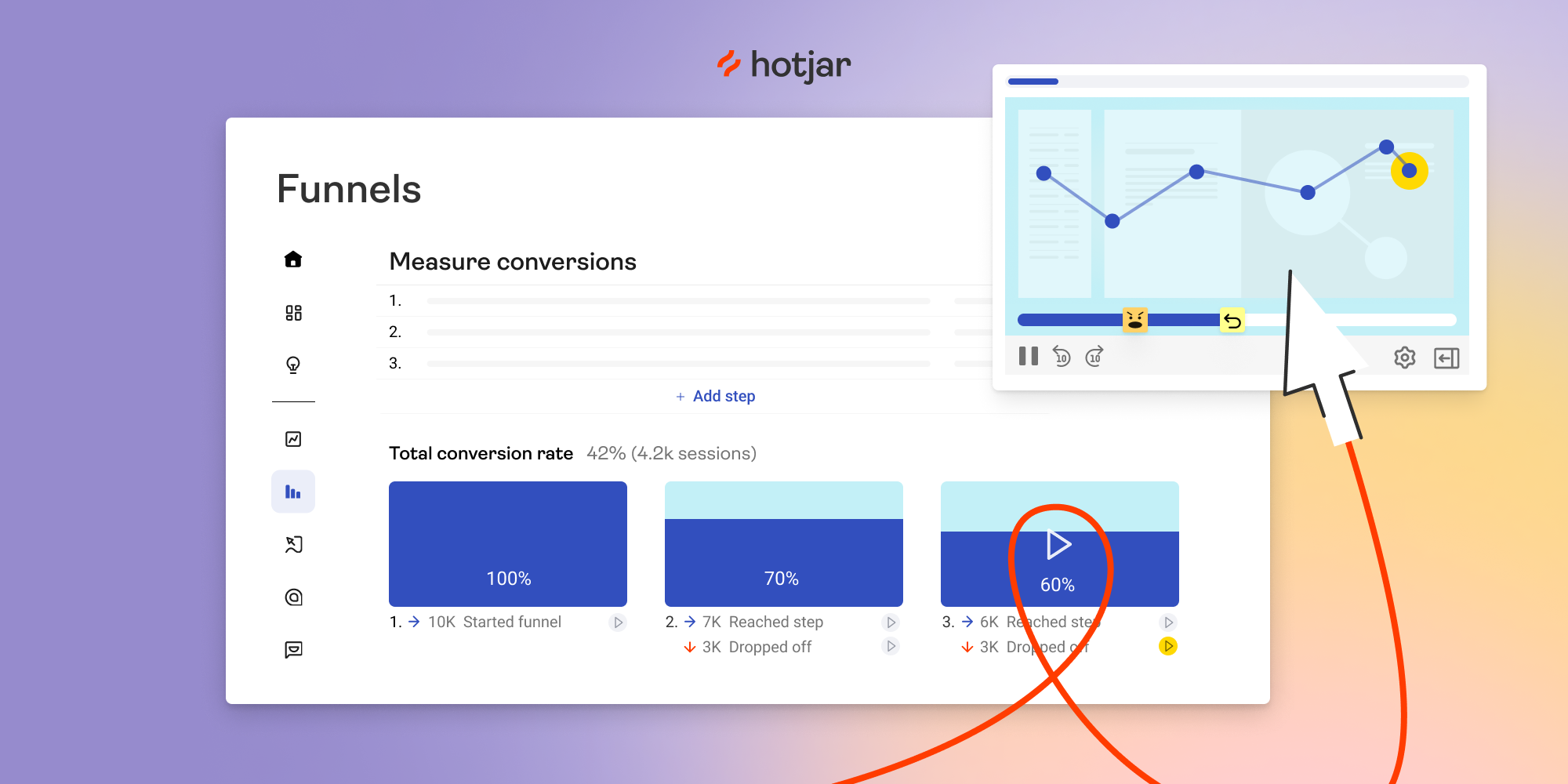 How can you increase conversions when you don't know why people leave your site?
It's easy to measure your conversion rate with analytics tools. But you miss out on the really interesting stuff: why users are dropping off.
Recordings can help you uncover that all-important why, validate your assumptions, and provide critical insights. But what happens when you have thousands to go through?
You might have found yourself flicking frantically between Hotjar and your analytics tools. Back and forth, back and forth, detective hat on, Sherlock pipe in mouth. 🕵 It's doable, but it can be a bit of a drag, right?
Good news—we just released Funnels, bridging the gap between your analytics tools and real user insights! 🎉
Funnels visualizes the conversion steps in your product, and shows you the relevant recordings at each step. It's easier and faster than ever to connect your numbers to real user behavior.
Be gone, back and forth! So long, Sherlock!
Funnels is now available on the Observe Scale plan. If you have an Observe Basic or Plus plan, you can try it for free until February 13. Customers with an Observe Business plan can also access Funnels until March 13 as part of their Scale features trial.
How does it work?
Think of the most important conversion flows on your site, such as the checkout flow.
Now, imagine the conversion steps users take to check out successfully. First, they'll view the items on their cart. After that, they'll hit that "confirm order" button. If the payment goes through, your site will fire that final checkout event, or users will see the "thank-you" page.
Using Funnels, visualize those steps with 'viewed page,' clicked element,' and 'events' and create a funnel like this:
Step 1: Viewed page: acme.com/cart
Step 2: Clicked element: 'Confirm order' button
Step 3: Event occurred: 'proceed to checkout'
You'll see the conversion rate at each step, and be able to identify issues and areas for improvement.
Noticed a high drop-off rate? Click the play button to watch the recordings and see why users aren't converting.
Funnels can also help you:
Understand where and why users convert more so you can double down on those best practices
Identify which channels or markets convert more by using country and referral URL filters
Quantify the UX issues you spotted in a recording to see if it's a recurring problem or a one-off
What's next for Funnels?
We're already working to let you easily compare funnels side by side with filters, and add Funnels to your dashboard, just as you can already do with Trends.
Check out Funnels today and start bringing real user insights to your conversion optimization process.