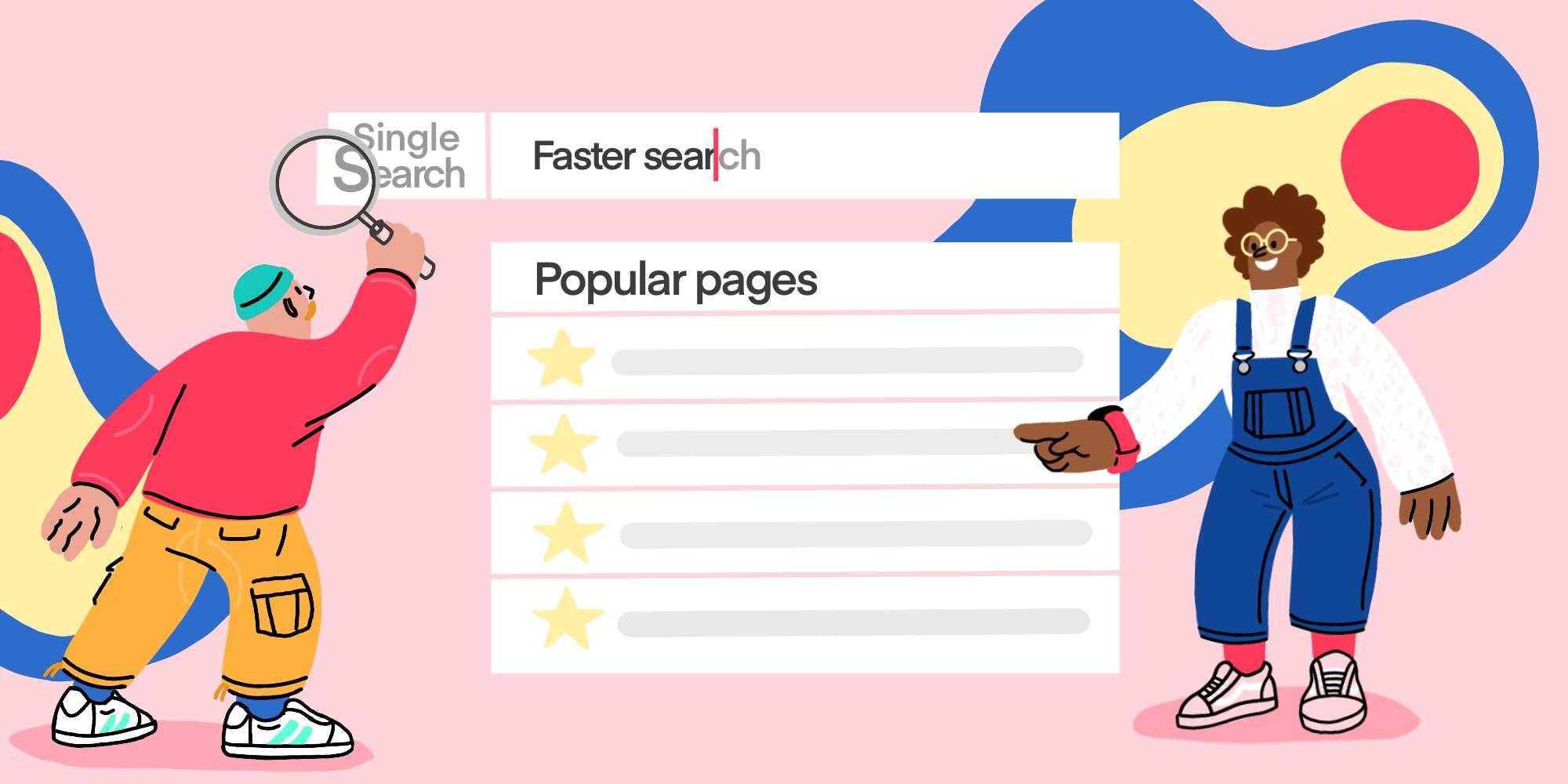 Figuring out what product improvements will have the biggest bang for your buck can be pretty labor-intensive. Digging into usage stats, bug reports, experiment results, and everything in between takes time, and time is money so you need to move fast 💵 💨. To move fast, insights need to be quickly accessible, and our latest improvements to Continuous Heatmaps make finding those nuggets of gold a whole lot easier.
Here are a few of the latest improvements, with lots more coming your way 👉👉
Popular pages list
Single page search
URL suggestions as you type
Appy custom date ranges
💡Continuous Heatmaps are available on Hotjar Plus, Business, and Scale.
Popular pages: your springboard into Continuous Heatmaps
With session data continuously flowing into your Heatmaps, you no longer need to set up snapshots and wait to capture data before getting any insights. So to make it easier for you to get started, we added a shortlist of the pages your users visited the most over the past 30 days. The popular pages list makes it much easier to find heatmaps dotted with valuable insights that help you to make your case for product improvements.
Surface more results with a "single page" search
When we first launched Continuous Heatmaps, searching for a specific heatmap wasn't smooth sailing—so we dug into your feedback to find a solution that tackled the issues you reported. The new single page search broadens your heatmap search options by showing all activity on a particular page, ignoring URL variations like query strings and fragments.
For example with a single page search for acme.com/products, your results will include:
✅ http://www.acme.com/products?source=forest
✅ https://app.acme.com/products?source=desert&campaign=dynamite
If you want to analyze the behavior of users who visited a specific URL, you can select the "exact match" checkbox to narrow down the results.
Find the page you need in less time with URL suggestions
Finding the page you need in Continuous Heatmaps used to mean copying and pasting links— or good, old-fashioned guesswork. We know this wasn't an efficient use of your time, so we introduced URL suggestions in Continuous Heatmaps to help you find the page you're looking for in much less time.
Now, when you select the single page filter and type a keyword into the search bar, a dropdown with some suggested page matches will appear—so you can spend less time searching and more time understanding user behavior. It's that easy, take a look: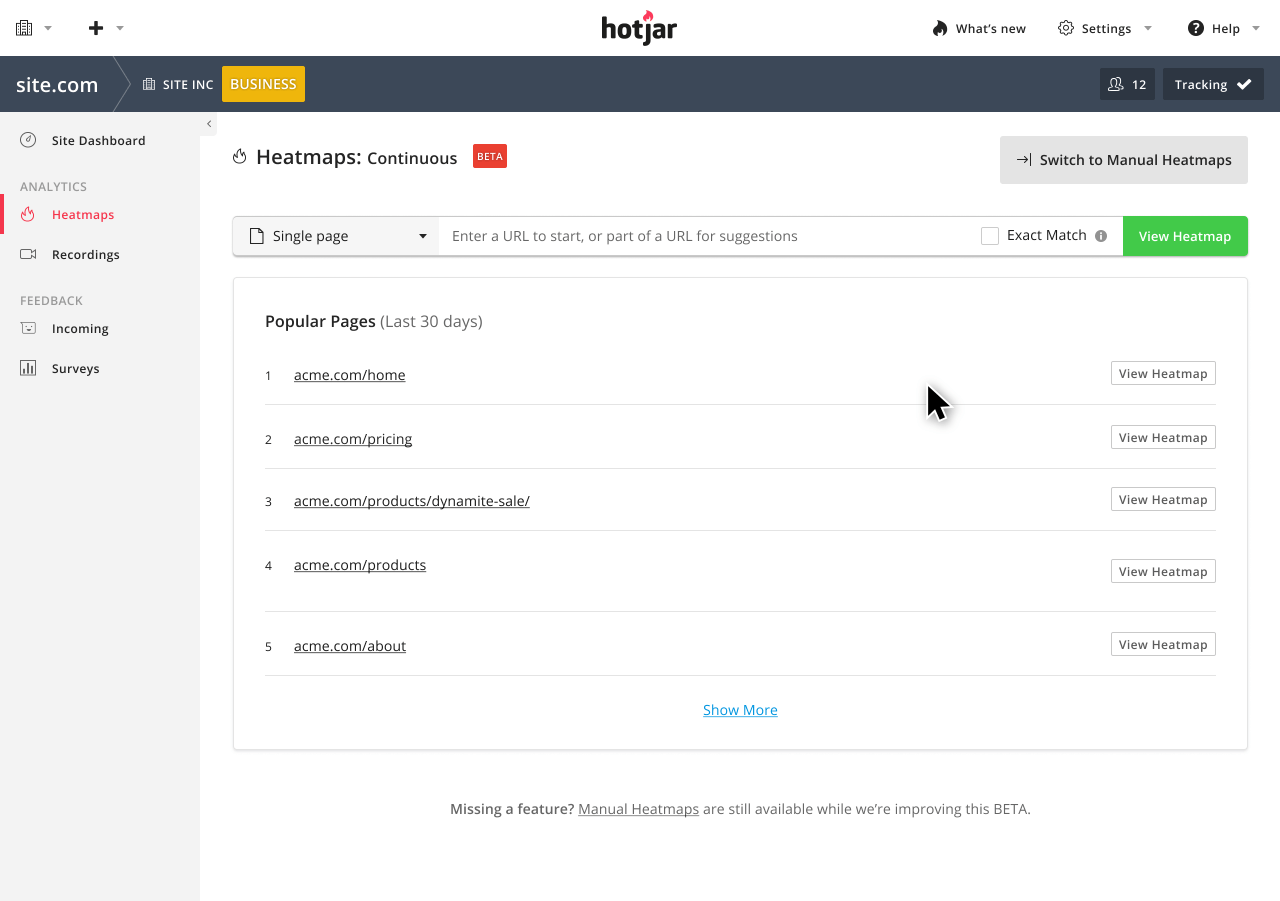 Analyze and compare user behavior by date with custom date ranges
Now you can understand user behavior for a specific period of time by selecting a custom start and end date in Continuous Heatmaps. If you recently redesigned a page, you can quickly see how users are adapting to the changes by analyzing behavior from the exact date the changes went live. You can then compare user behavior both before and after the changes were made to measure the impact of your work over time.
Simply select the date picker in your heatmap, click on "custom date range" and choose the start and end date you'd like to zone in on. This allows you to get laser-focused on user behavior for a point in time that matters to you —helping you to pinpoint how users react to redesigns, new features, sales, and any updates to your product.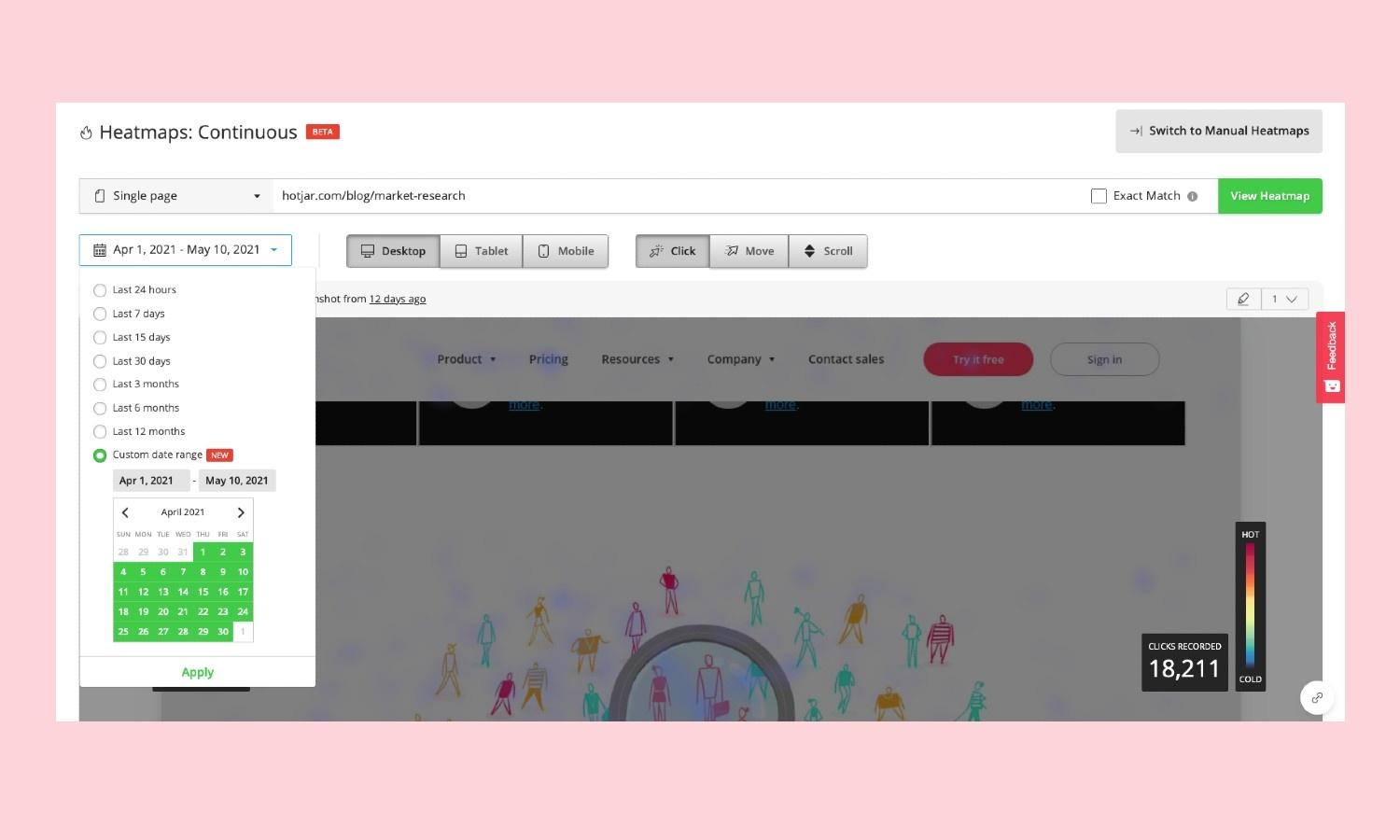 With Continuous Heatmaps still in Beta, we're eagerly listening to your feedback so we can iterate on solutions that help you understand how your users behave. Remember, when a feature is in Beta it's the perfect opportunity for your feedback to be heard and shape the evolution of Continuous Heatmaps 🤝.
Continuous Heatmaps are available on Hotjar Plus, Business, and Scale.
We've put together a quick tour to show you how to get to the latest improvements in Continuous Heatmaps.