We all strive to improve our products and offer a better user experience. But sometimes, we end up with low conversions, more abandoned carts, or a bunch of questions about why users don't interact with that final button.
If you're trying new things to enhance your product's UX, you may have found yourself in one of these situations:
You released a new onboarding flow, but, for some reason, users don't complete it.
Users keep abandoning the checkout process, and the conversion rate is low. You don't want to spend hours watching recordings, but you need to know what prevents them from checking out.
You're A/B testing with different CTAs on your site and want to figure out which one performs best—and which actions users take once they click on it.
Sound familiar? Then you'll love our brand-new filter: clicked element. Now, you can track and filter all the clicks across your site automatically and gain laser-focused insights on user behavior by viewing underlying recordings and heatmaps.
And the best part is: you don't need a developer! The clicked element filter works right out of the box, so you can easily filter all the sessions where a click happened (or didn't happen) without any hassle!
How does it work?
Suppose you recently launched a new checkout flow where users need to click the "Confirm and pay" button to complete the purchase. You're curious to see whether they are running into any issues.
To find out, use the clicked element filter to view recordings of users who didn't interact with the "Confirm and pay" button in the last step of your checkout process. Here's how to do it:
Head to Recordings. First, set a "visited page" filter to filter out the recordings of sessions that involve your checkout page. Then choose the "clicked element" filter in the menu, and select "did not occur".
Next, refine your search with the condition "where button or link text contains 'Confirm and pay'". Add another condition, "page URL," to ensure you're analyzing the clicks for the checkout page only. If you have multiple buttons with the same text on the same page, you can use the "CSS selector" condition to explore the clicks on the button you're interested in.
All you need to do is have a watch party with your team to go through the filtered recordings and decide what to prioritize next.
If you apply the same filter in Trends, you can also see whether the number of these occurrences increased or decreased after you released the new flow.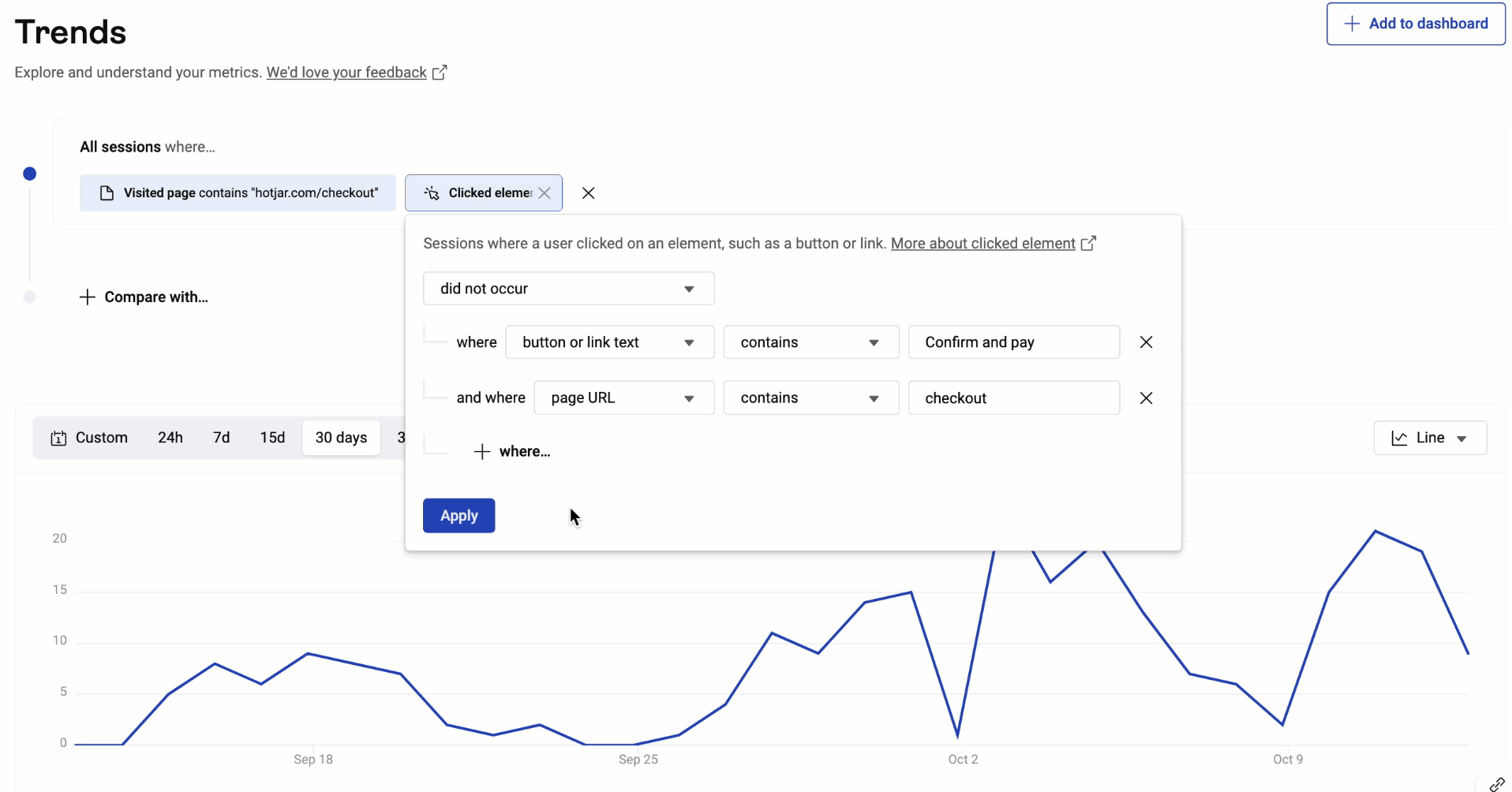 The clicked element filter is available for all sites on Observe Business and Scale.
Here's what else you can do with the clicked element filter:
Analyze your A/B test of different CTAs: compare the results by plotting clicks for different CTAs in Trends and jump right into the corresponding recordings to get more insights into user behavior.
Decrease the cart abandonment rate: filter out sessions where users clicked on the "Add to cart" button but didn't complete the checkout in Recordings to see the why. Discover what's distracting them by viewing a heatmap of users on the checkout page who don't click the "Check out" button.
Spot issues easily: has a user reported that a button or a link doesn't work? Find out if that's a general problem or specific to a user. Head over to your Dashboard and apply the clicked element filter with "page URL" and "button or link text" conditions, and see if that's impacting the rage clicks. Then, click through the Recordings to get more context into the issue before prioritizing a fix.
Check out our Help Center article for more best practices on how to use this filter.
The clicked element filter will save you the time and effort of manually setting up events to filter clicks and help you get the most out of Hotjar's tools. Head over to Recordings to give it a try!