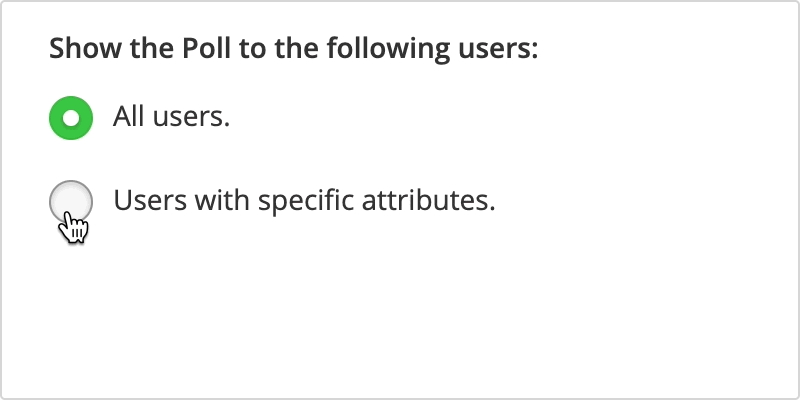 We've got an exciting launch to share with you - You can now target users when collecting feedback in Hotjar by attributes of your choice such as amount spent, user ID, or country. This feature is called User Attributes, and is ready to use via our brand new Identify API.
User Attributes is available on Hotjar Business plans.
Here's just a couple of ways you can now use User Attributes in Polls and Incoming Feedback.
Target Polls at specific users on your product page 🎯
User Attributes can make your product page Polls a lot more specific: maybe you'd show the Poll only to customers who did not make a purchase, who arrived through your Facebook ad, and who are in the United Kingdom.
Collect Incoming Feedback from specific users 📯
With User Attributes you can now specify to who you show your Incoming Feedback widgets. Want to get website feedback from your high value customers? In your setup you could for example target users with total spend over $100 and who have made a purchase in the last 30 days.
Coming early 2020: User Attributes in Recordings 📽
Targeting in feedback is just the first step - next we're rolling out User Attributes to Recordings starting early 2020, where you'll be able to store and filter by attributes like size of spend to see Recordings broken down by customer spend.
How do I set up User Attributes?
To use User Attributes you'll need to be on a Hotjar Business plan, and make use of our new Identify API. Whether you're new to APIs or experienced in setting them up, we've got you covered. Head over to our docs where we've included a 4-step setup guide.
Hotjar's commitment to privacy & your responsibilities as data controller
With the launch of Identify API and new User Attributes functionality, we're putting the power in your hands to be able to work with the data that matters most to your business. To use the Identify API you'll need to sign a Data Processing Agreement with us, and it's important for you as the data controller on Hotjar to understand your responsibilities when processing personal data on Hotjar. On our side, we'll continue to provide the measures and tools you need to work with behavior analytics safely, and with respect for users' privacy. For more detail, have a read of the new blog we've just published detailing Hotjar's approach to privacy.