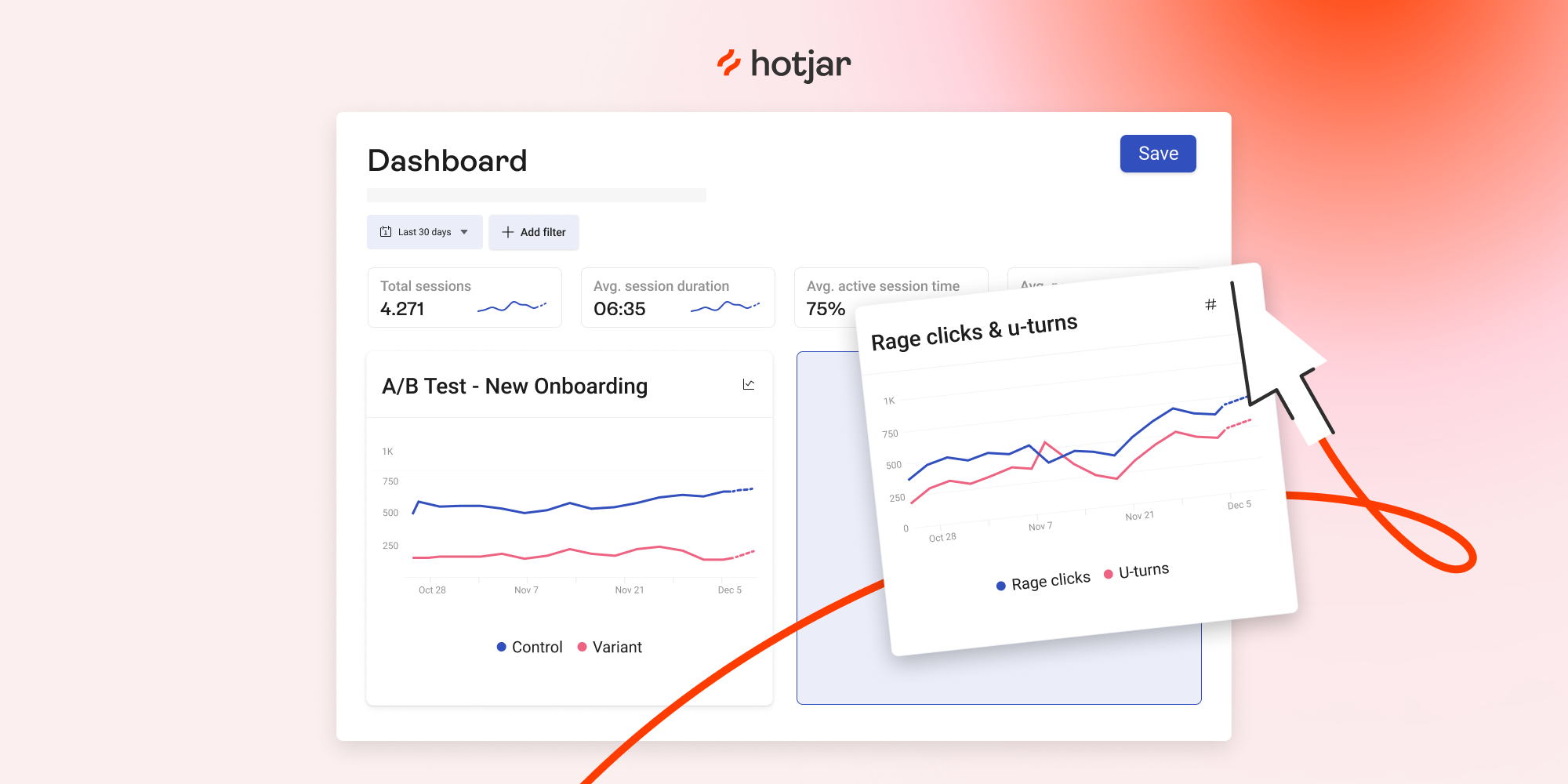 We all have important metrics we keep an eye on every day. Whether it's a generic metric, such as cart abandonment rate, or something more specific to your product, tracking all these metrics in one place is hard! And, let's face it: mixing and matching different data sources on spreadsheets to create a custom dashboard is time-consuming!
Earlier this year, we launched the Hotjar Dashboard to give you an aggregated view of patterns across user sessions, letting you jump directly to the relevant recordings and heatmaps from your charts. Later, we released Trends to help you create your custom metrics.
Now, we're taking it to the next level with improvements to Dashboard and Trends. With these new features, you can add custom metrics to your dashboard, save the changes you made to your charts, and reorder them so that you can have a dashboard tailored to your team's needs. 🎉
Tailor your dashboard with custom metrics
You might have found that not all default charts in the Dashboard are relevant to your use case. If your site is on the Observe Scale plan, you can now add your custom metrics to your dashboard, and easily click through the relevant recordings and heatmaps.
All you need to do is click the "Add new trend" button on the top right corner or at the bottom of your dashboard and create your metric in Trends, using filters, events, and user attributes. Then add your trend to the Dashboard by clicking on the "+ Add to Dashboard" button.
No longer need that trend? Just delete it with a single click so your dashboard will always have the most relevant data for your project.
Save the changes on your dashboard
If you use the Dashboard to check back on specific charts, you may have thought:
"It would be good if I could customize my dashboard to see what's important to me."
"There is no way to save my dashboard, which makes it less valuable."
"It's tedious to change the chart type and properties every time I use the Dashboard!"
If these sound familiar, we've got your back! Regardless of your Hotjar plan, you can now save the changes you make to your dashboard with a single click. Reorder the charts by dragging and dropping them, and keep the changes you made to the charts simply by clicking on the "Save" button.
Next time, when a team member visits the Dashboard, Hotjar will remember your team's chart preferences and the order of the charts, so anyone on the team will be able to continue from where they left off.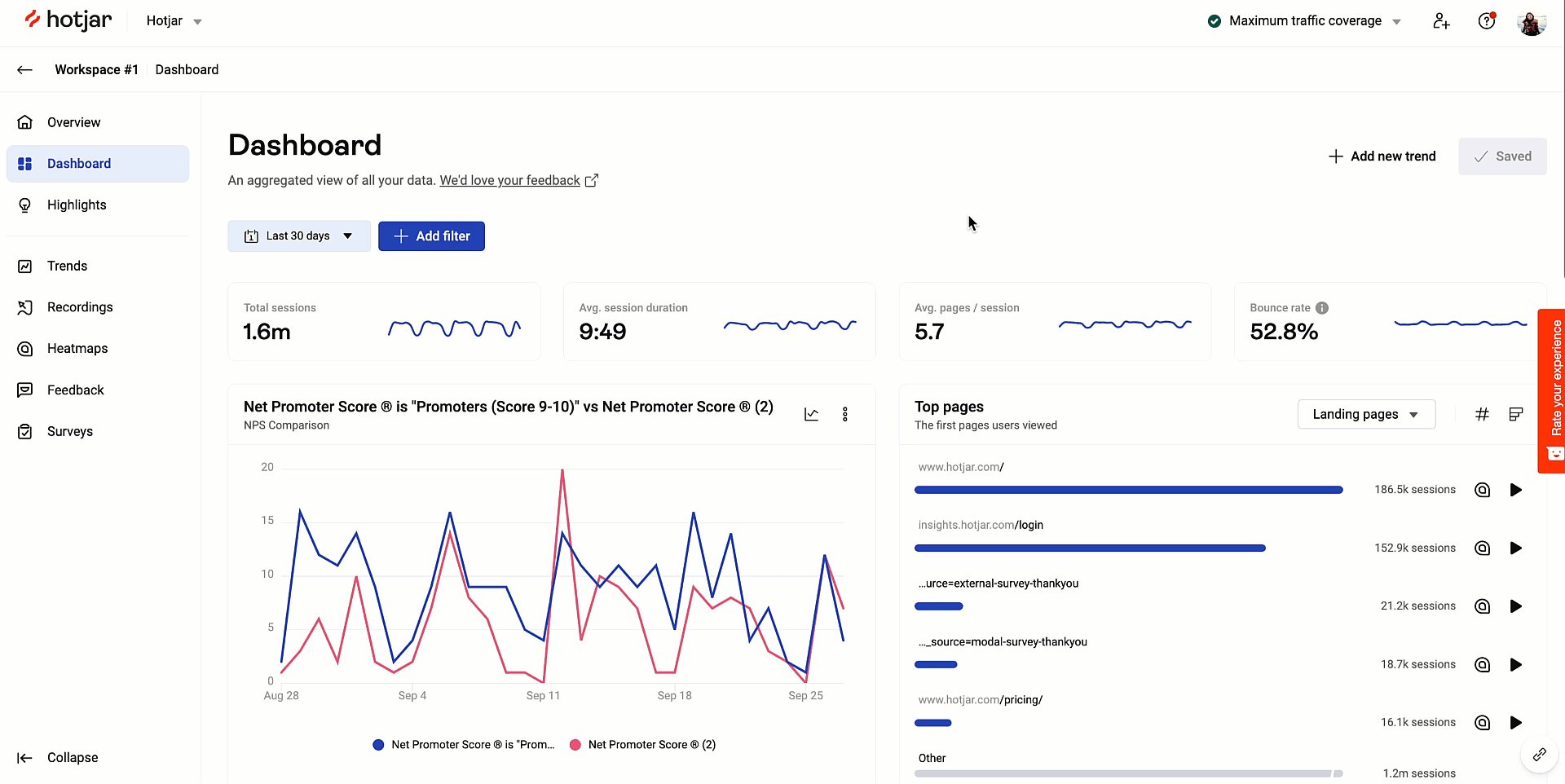 Here are some ideas on how best to leverage your custom dashboard:
Get high-level user feedback by customizing your dashboard for your product. Add the NPS score trends and other product KPIs to find all the essential insights in one place.
Using Hotjar mainly to spot issues? Drag the rage-click chart on the top of your dashboard and add a trend that shows sessions where users left negative feedback. When you detect an unusual spike, easily jump into the relevant recordings and solve the issues before they become serious.
Changed something in the checkout flow and want to see how it impacts the cart abandonment? Create a trend that shows the sessions where users added something to their cart but didn't complete the checkout. Then, click through the recordings to understand what prevents them from completing the purchase.
These new improvements will help you customize your dashboard around specific projects so you can spot issues and opportunities faster and create a single source of truth for your whole team.
Start customizing your dashboard today!